Past Ambassadors Events
2018-2019
Party For Your Mind
Every year the Library kicks off Fall semester by hosting an open house called Party For Your Mind. There are lots of things to do like palm reading, scavenger hunts, and mini-golf. This year, the Student Engagement Ambassadors hosted a "Write a Postcard Home" table. Students were able to send a note home to a family member or friend telling them about their first few days at Michigan. Pictured below is a photo of the beloved Michigan squirrels on our postcard.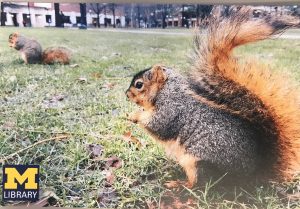 Free Headshots with the University Career Center
Each semester, the Ambassadors partner with the Career Center to offer free professional headshots. Students of all majors, and even some staff, came by the Winberg Media Production Room dressed to impress (at least from the elbows up). An up-to-date professional headshot is a must for LinkedIn, so if you didn't make it to this event, keep an eye on the Library's social media for the next one!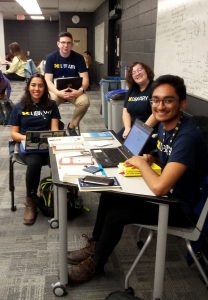 Halloween at the Li~boo~rary
The Ambassadors turned Shapiro's PIE Space into a Halloween celebration for an evening this October. Students could have their tarot cards read, make punny buttons, check out Halloween-themed movies from Askwith Media Library, and of course eat a bunch of candy and other sweets. We had a spooktacular time!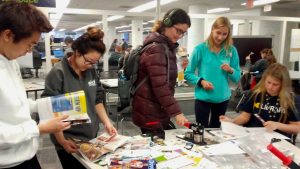 Go Blue, Say Thanks
The week before Thanksgiving break is usually filled with essays, projects, and exams. The Ambassadors set up a gratefulness station in the Shapiro lobby, where students could take a step back and reflect on what and who they're thankful for. Students could decorate cards or write a postcard to say thanks to professors, GSIs, friends, and family members. Over the afternoon, students filled up a poster board with Post-it notes listing what they're  most grateful for right now.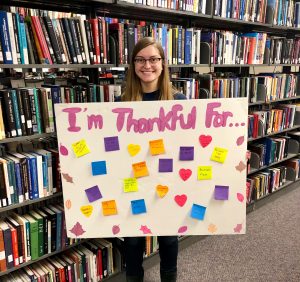 The Dog Days Are Over
Every semester during finals, Therapaws fills the first floor of Shapiro with therapy dogs of all shapes and sizes. The Ambassadors added to the fun with a Starbucks-worthy hot chocolate bar and dog-themed button-making. Can studying really be so ruff if you get to pet dogs, drink hot chocolate, and make crafts while you do it? We hope not!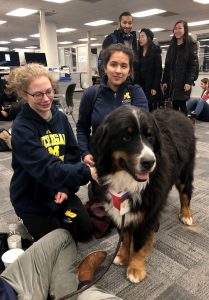 More Free Headshots at Shapiro!
The Ambassadors partnered with the University Career Center again winter semester to offer free professional headshots.  Over 100 students attended the event in February, so the Ambassadors decided to host another headshots event in March. At this one, Scholarship & Fellowship Librarian Paul Barrow was there to help students find funding for research and independent projects.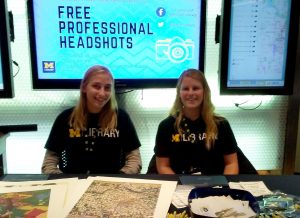 ImPRESS Your Valentine
Did you know that the Shapiro Design Lab has its own letterpress, just like the ones used centuries ago? The Ambassadors and the Design Lab offered students a chance to design and hand-print an old-fashioned Valentine's Day card. Attendees could also make cards for children spending the holiday at Mott Children's Hospital, where one of the Ambassadors volunteers.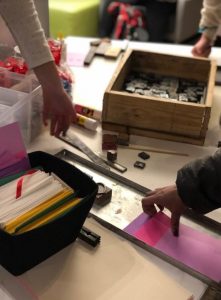 Book Arts at Shapiro
Artist books are art in the form of a book. The U-M Library has its own collection of artist books in the Art, Architecture, and Engineering Library on North Campus.  With the help of Art & Design librarian Jamie Vander Broek, the Ambassadors brought some of these books down to the lobby of Shapiro. Inspired students could make their own artist book using magazines from the 1960s, cardstock, and a stamp set.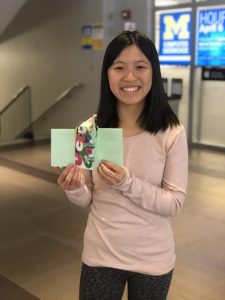 Button-Making at Therapaws
As campus descended into finals mode, the Therapaws dogs returned for another round of animal-induced relaxation. Like Fall semester, the Ambassadors set up the button-maker to help students get in touch with their creative side. Taking a break from studying is not only fun, but it also improves focus for the rest of the study session!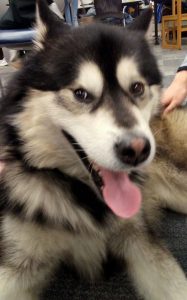 Grow Your Mind
To celebrate Earth Day, the Ambassadors took a step back in time to the environmental movement of the 1970s. Students visiting the Therapaws dogs could look through a display of activist posters, booklets, and buttons from the Labadie Collection. Students could then make their own buttons. They could also make bookmarks from compostable seed paper–when they finish reading their book, they can plant the bookmark in the ground and it will grow into wildflowers.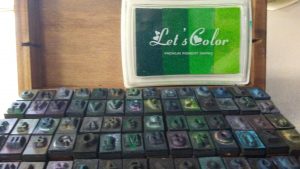 2016-2017
Fruit Orchestra
The Ambassadors hosted a Fruit Orchestra Lobby Table at the beginning of the semester to bring awareness to our group and have a little fun with science. Different Fruits were attached to circuit boards and when touched would play all sorts of fun sounds right through our computer!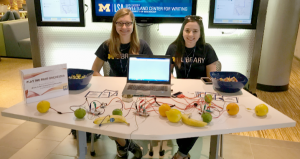 Free Headshots with the University Career Center
Did you know that the UGLi has its own media production room? The Career Center took over the Winberg Media Production Studio on the first floor to offer a free professional headshot for students. The Ambassadors offered tips for professional dress and made sure everything ran smoothly so students could get the perfect shot to enhance their LinkedIn profiles.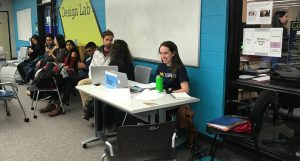 Zine Making with Special Collections
A zine is a self-published, small-circulated, often politically focused mini-magazine usually made by one person or a small group. The Ambassadors put together a zine-making workshop with the help of Special Collections in Hatcher. Librarians from the Labadie Collection pulled a variety of locally made zines for students to explore and get ideas to create their own!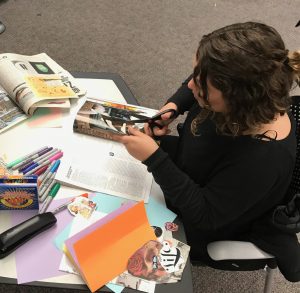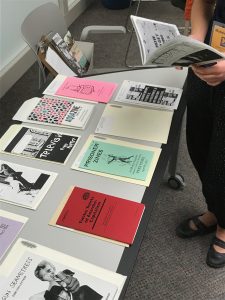 Hot Chocolate Bar and Coloring
Nothing warms you up on a cold winter night like a nice cup of hot chocolate. What's even better is customizing your hot coco with a variety of sweet treats. The Ambassadors set-up sprinkles, marshmallows, candy canes, caramel sauce, and of course whipped cream for students to design their perfect cup of coco! We also provided fun winter themed coloring pages to help give students a mental break from all the pre-finals studying.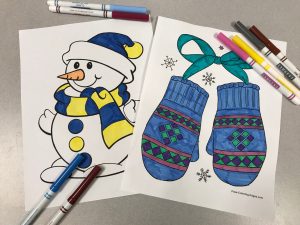 Button and Card Making with Therapaws
Our last event of the year is always a favorite. Therapaws: Therapy Dogs of Michigan, came to the Library to give students a much needed break from cramming for exams. To add a bit more fun to this event, the Ambassadors set up a button making and holiday card making station for students to utilize while they were waiting to pet the puppies. Students had a blast creating their own unique buttons that can be used on a backpack, coat, or pinned to a bulletin board. Nothing makes studying better than crafting and cuddles from our four legged friends.