Check out the exciting events our Ambassadors have held this semester!
Party For Your Mind
Every year the Library kicks off Fall semester by hosting an open house called Party For Your Mind. There are lots of things to do like palm reading, scavenger hunts, and mini-golf. This year, the Student Engagement Ambassadors hosted a "Write a Postcard Home" table. Students were able to send a note home to a family member or friend telling them about their first few days at Michigan. Pictured below is a photo of the beloved Michigan squirrels on our postcard.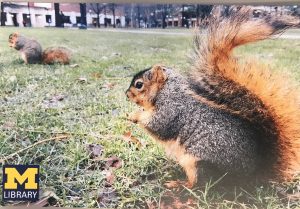 Free Headshots with the University Career Center
Each semester, the Ambassadors partner with the Career Center to offer free professional headshots. Students of all majors, and even some staff, came by the Winberg Media Production Room dressed to impress (at least from the elbows up). An up-to-date professional headshot is a must for LinkedIn, so if you didn't make it to this event, keep an eye on the Library's social media for the next one!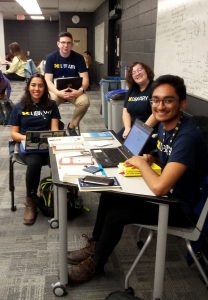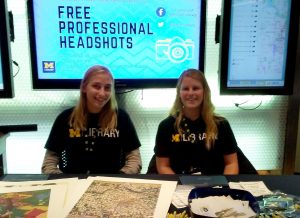 Halloween at the Li~boo~rary
The Ambassadors turned Shapiro's PIE Space into a Halloween celebration for an evening this October. Students could have their tarot cards read, make punny buttons, check out Halloween-themed movies from Askwith Media Library, and of course eat a bunch of candy and other sweets. We had a spooktacular time!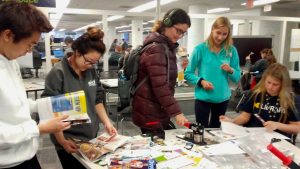 Go Blue, Say Thanks
The week before Thanksgiving break is usually filled with essays, projects, and exams. The Ambassadors set up a gratefulness station in the Shapiro lobby, where students could take a step back and reflect on what and who they're thankful for. Students could decorate cards or write a postcard to say thanks to professors, GSIs, friends, and family members. Over the afternoon, students filled up a poster board with Post-it notes listing what they're  most grateful for right now.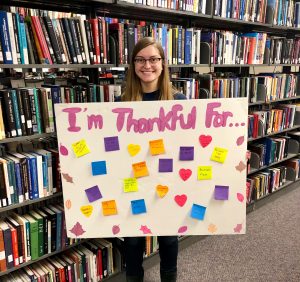 The Dog Days Are Over
Every semester during finals, Therapaws fills the first floor of Shapiro with therapy dogs of all shapes and sizes. The Ambassadors added to the fun with a Starbucks-worthy hot chocolate bar and dog-themed button-making. Can studying really be so ruff if you get to pet dogs, drink hot chocolate, and make crafts while you do it? We hope not!